Acorn Design Group: Your Illinois landscaping contractor.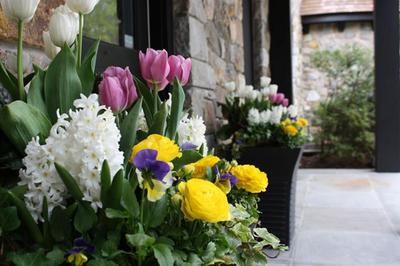 Hinsdale, IL landscaping
Great
design embodies, inspires & nurtures
Great landscapes don't just happen. They are the result of the careful melding of tastes, lifestyles, practicality and budget. Acorn Design Group has been designing and installing quality residential landscaping for over twenty eight years. Some of our past experience includes managing the landscapes of premier and landmark properties, which exceeded a billion dollars in real estate assets. This experience has provided the staff at Acorn Design Group the ability to take on any challenge in the landscape industry. With a proven background, we excel in a number of design and construction disciplines, providing our clients with a dynamic approach to landscaping. Previous projects include residential landscapes & roof-top gardens. Seasonal flower displays for public sites, commercial and residential properties and native wetland restoration at public parks -
meticulous in every detail.
We approach each project individually, providing you with a completed landscape that is both unique and distinctive. From plantings to paving materials, every detail is carefully selected to insure the success of your outdoor environment. Whether it's a new landscape or the renovation of an existing landscape, a perennial garden or an entire estate, Acorn Design Group will create a landscape that is uniquely yours.
​
When details and design matter
We care about what we craft. When it comes to the attractiveness of your property, you should expect the best and that's what we aim to deliver. Acorn Design Group strives to provide the best quality landscaping, with fine details and exceptional ideas beyond just plants.
These are a few of the Illinois communities we service
Hinsdale, IL
Western Springs, IL
Clarendon Hills, IL
Downers Grove, IL
Oak Park, IL
River Forest
Indian Head Park, IL
​Countryside, IL
La Grange, IL
​La Grange Park, IL
Burr Ridge, IL
Oak Brook, IL
We look forward to speaking with you about the possibilities for your landscape. Call us today and let's get started!
email us at: info@acorndesigngroup.net
---